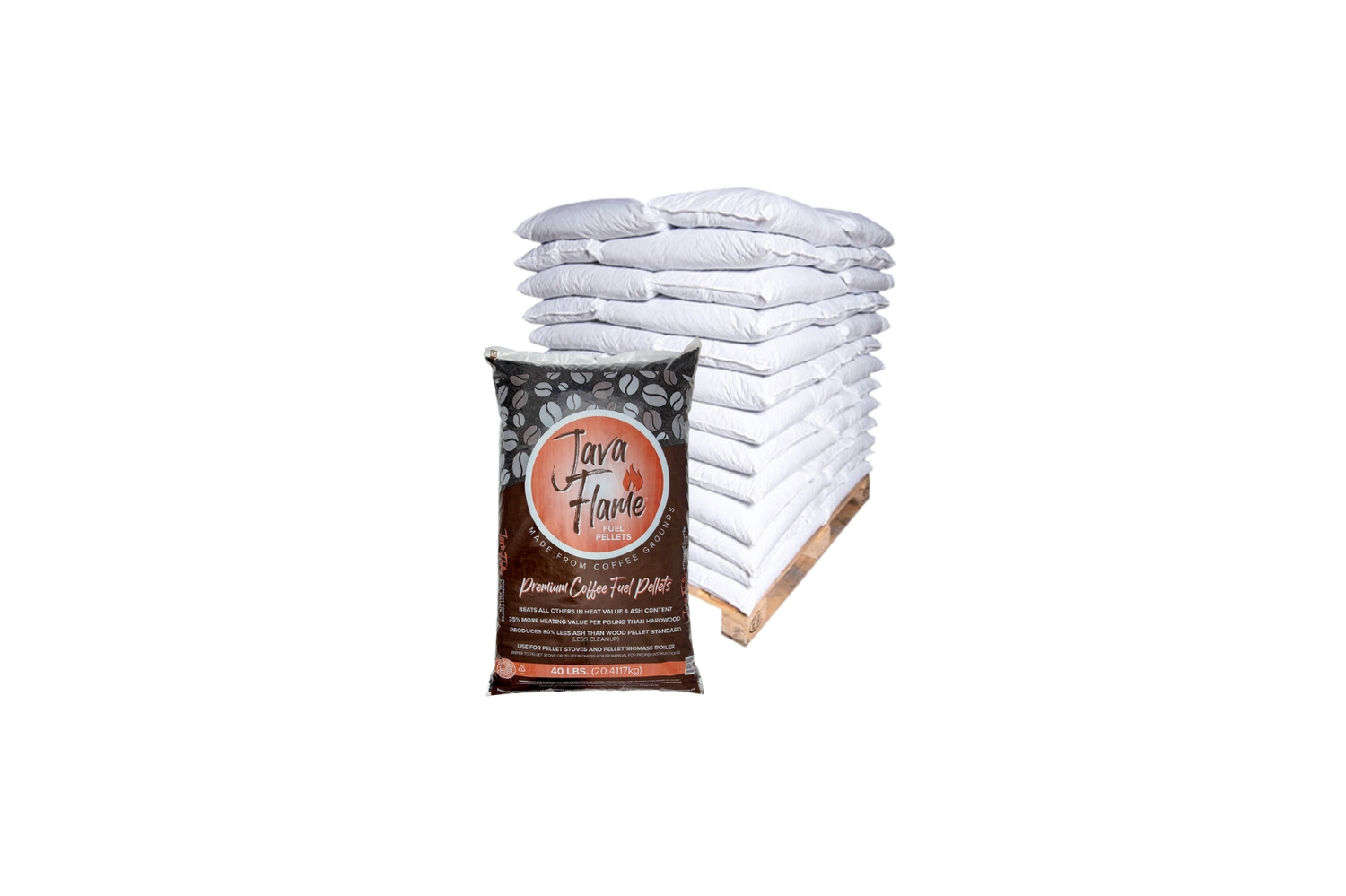 Java Flame Pellet Fuel
Regular price
Sale price
$9.99
Made from 100% coffee grounds. 11,300 BTU output and far less ash than regular wood pellet fuel. Can be mixed with wood pellets or burned alone. JavaFlame® has 35% more heating value than most hardwood and 80% less ash than wood pellet premium standards. Longer heating time and less clean up!
Java Flame Pellet Fuel
Regular price
Sale price
$9.99
How can I pick up my pellet fuel order from your location?

You can securely collect your pellet fuel during our regular business hours. Upon arriving at our facility, please present your receipt. Our dedicated team is committed to providing you with a swift and streamlined loading experience. Kindly note, if your order is placed after 4 PM, it will be ready for pickup on the following business day.
I'm interested in having my order delivered. How do I arrange this?

We'd be happy to deliver your pellet fuel right to your doorstep! For delivery services, there's a minimum requirement of two tons or two skids, and an associated delivery fee. To schedule a delivery in your area, simply place your order online and reach out to our service department at 860-621-5311 or send an email to online@deansstove.com, mentioning your order number. Do remember, our delivery service caters exclusively to Connecticut residents. If your online order is placed after 3 PM EST on Saturday, please expect a call by Tuesday, as we're closed on Sundays and Mondays.
Product Highlights
☕ Main Ingredient: Premium Coffee Fuel Pellets crafted from spent coffee grounds.
🌍 Eco-Conscious: Addresses the challenge of the earth's largest sources of organic waste.
🔥 Natural Heating Power: Coffee grounds are known for their high heating value and natural oil content.
♻️ Sustainable Practices: SRG's innovative technology upcycles organic residuals previously destined for landfills.
🌎 Direct Source: Our coffee grounds are obtained directly from top-tier international instant coffee manufacturers.
🌲 Coffee vs. Wood: While coffee is globally consumed, its remnants are usually discarded. SRG processes these renewable grounds, providing an eco-friendly alternative to wood pellets.
🌳 Forest-Friendly: Transitioning from wood to coffee pellets aids in preserving our vital forests.
💡 The Smart Choice: Choosing coffee pellets is simple considering their superior heat value, ash content, and competitive pricing.
🔥 Superior Performance: JavaFlame® boasts 35% more heating value than most hardwoods.
🧹 Minimal Cleanup: Produces 80% less ash compared to standard wood pellet premiums, ensuring a longer burn and easier cleanup.
Specifications
🇺🇸Manufacturer: JavaFlame®

🪵Fuel Type: 100% Recycled Coffee Grounds - A unique and efficient fuel source.

📦Packaging Details: Each ton contains 50 bags.

⚖️Weight: Weight per bag is 40 lbs., and weight per ton is 2,000 lbs.

🌬️Ash Content: An almost negligible .0025%, ensuring extremely clean burns.

🔥BTU per lb: A staggering 11,300 BTU's per lb - Superior heat output for the ultimate heating experience.

FAQ section
Here are some of the most popular questions we get from new customers
What sets your pellet fuel apart from others on the market?

Our pellet fuel undergoes stringent third-party testing and certification, ensuring an ultra-premium quality. By handpicking only the best, we offer fuel free from fillers or binders, ensuring optimal efficiency and heat output.
Why does quality matter when it comes to pellet fuel?

The quality of pellet fuel directly impacts the maintenance, lifespan, and cleanliness of your stove. More importantly, superior quality means more heat for your money, resulting in tangible savings and enhanced warmth.
How can I be sure your pellet fuel offers the best value for my money?

We pride ourselves on transparency and education. By eliminating the fancy wording tricks prevalent in big box stores and continuously researching the industry, we ensure our customers receive the best product at the best price, without the unnecessary legwork.
Will your pellet fuel work efficiently in any pellet stove?

Absolutely! Our pellet fuel is versatile, designed for optimal performance in all pellet stoves. Its consistency, low moisture content, and high BTU output make it a preferred choice for both new and seasoned pellet stove owners.
How do I arrange for local pickup or delivery of your pellet fuel?

We offer both local pickup and convenient delivery services. For detailed information on scheduling, fees, and other specifics, please visit our Pickup and Delivery page at the top of this page.